Sunday night bambino blogging
l'il wobs first true love (beyond his parents, of course) is elevators, which he indulges himself in, any chance he gets. Unfortunately for us, that means lots of rides in the elevators at Metro stations with their not-so-subtle stench of urine. Yesterday, I decided to take the boy to the biggest, baddest elevator in town.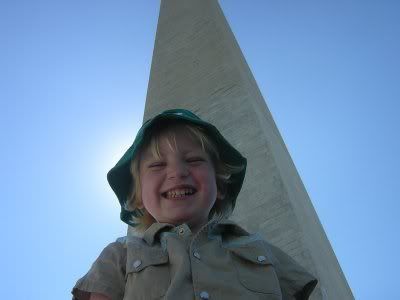 The last time - the only time - I went to the top of the Washington Monument was twenty years ago when I was an awkward twelve-year old. At that point in time, you waited in a line that snaked around the base of the obelisk for a couple of hours. Living in more refined times, they now issue tickets for specific times, thus relieving you of the need to spend all day in queue. Unfortunately, there's a limited number of tickets the National Park Service issues everyday, and they were out by the time we got there. So no ride for l'il wobs. He was, of course, disappointed, but he sucked it up for the picture.
Labels: bambino blogging, l'il wobs